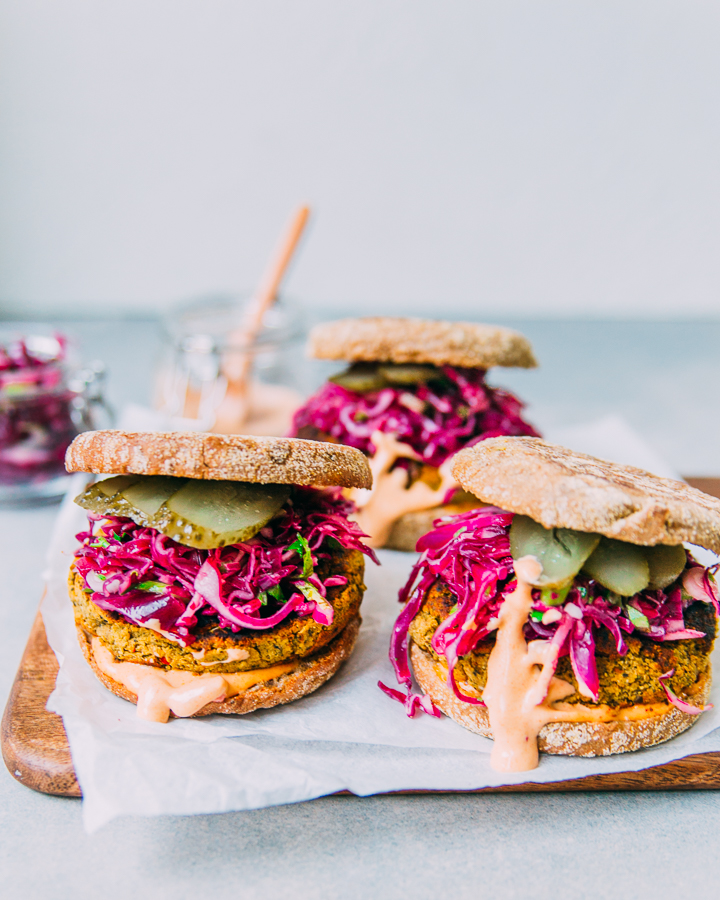 Do you like falafel? Yes! How about vegan burger? Ok, so you're going to love this! I got some kick-butt falafel slider with a pink cabbage slaw and vegan siracha mayo coming for ya!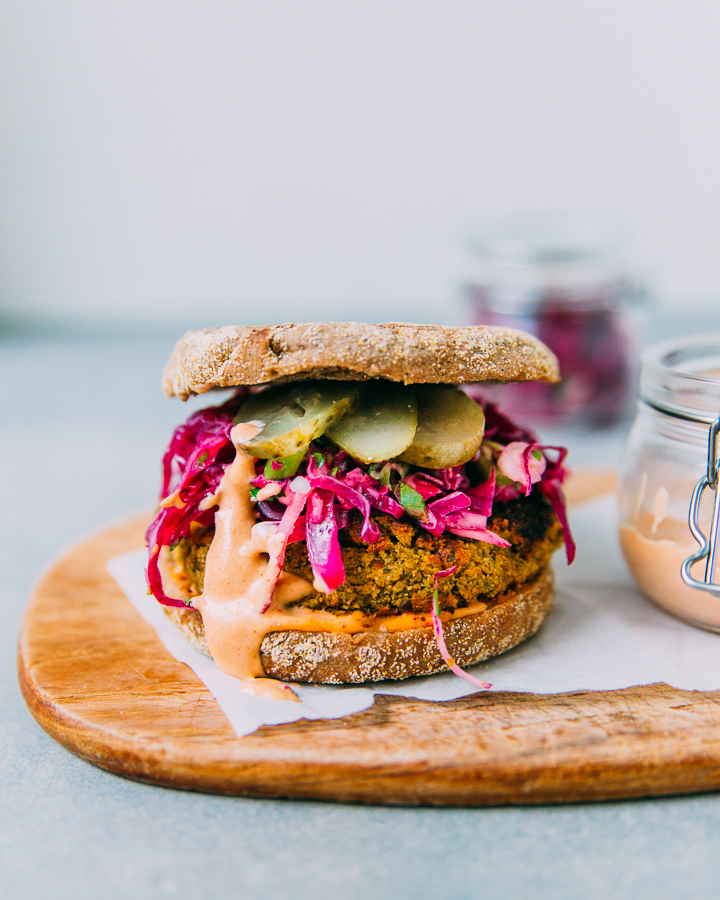 They are oven-baked, so healthier than fried falafel but oh so soft on the inside and crispy on the outside!! The flavors are deep but also fresh, so you can enjoy this all year round. If you're not as spice experienced as me or you're just not much of a spice person, here's a little tip for you: Never be intimidated by a recipe because of the spices/ ingredients. Go for it but adjust the flavors to your own taste and needs. You don't like it hot? Then skip the chilli and add smoked paprika instead. You get the yuckies when you smell cilantro? Go for parsley, mint of basil instead! The sky's the limit!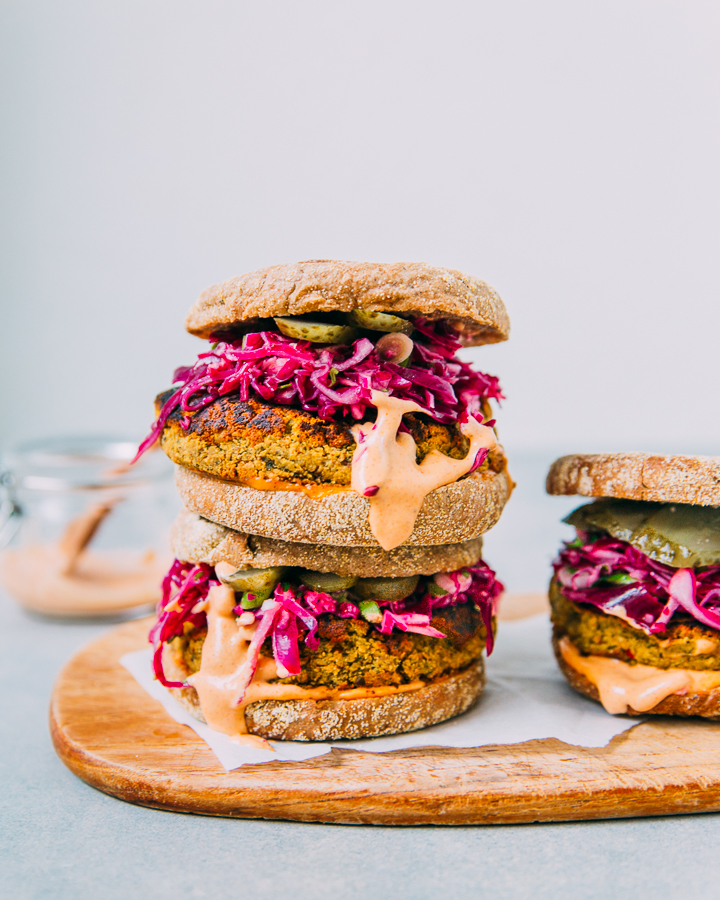 1/4 cup or more finely ground oats or oat flour
2 cloves garlic or roasted garlic
Zest and juice of 1-2 lemons
1/2 head of red cabbage thinly sliced
1-2 tsp agave or maple syrup
1 tbsp light sesame oil or olive oil 
1/2  cup non-dairy milk [oat, almond or soy]

1/2 tsp sea salt

1 tsp dijon or regular mustard
1 tsp garlic powder [skip this if you're not much of garlic lover, because the siracha contains lots of garlic too]

2 tsps apple cider vinegar
1-2 tbsps siracha [use a brand without the yuckies]
1 cup light oil [light olive oil or canola oil]
1| Start with the mayo by adding all ingredients except for the oil in a blender and blend until combined. Set the blender on low, take the small plastic piece of the lid and start slowly drizzling the oil until it's smooth and creamy. Adjust the seasoning if needed. Pour into a small container and put in the fridge until ready to use.
2| For the slaw, make the dressing, then add the cabbage, green onions and cilantro. Massage the cabbage well with the dressing then cover and set aside until ready to use.
3| Now for the falafel put the herbs, green onions, chili and garlic in the food processor and pulse until roughly chopped. Then add the rest of the ingredients and pulse until a mass forms. With an ice cream scoop form equal balls, flatten with moistened hands and lay on a lined baking sheet. Brush on a little olive oil and bake at 180*C for about 20-30 minutes, flipping once after about 10-15 minutes.
4| Serve on top whole wheat or gf buns with the pink slaw, vegan siracha mayo and dill pickle slices.