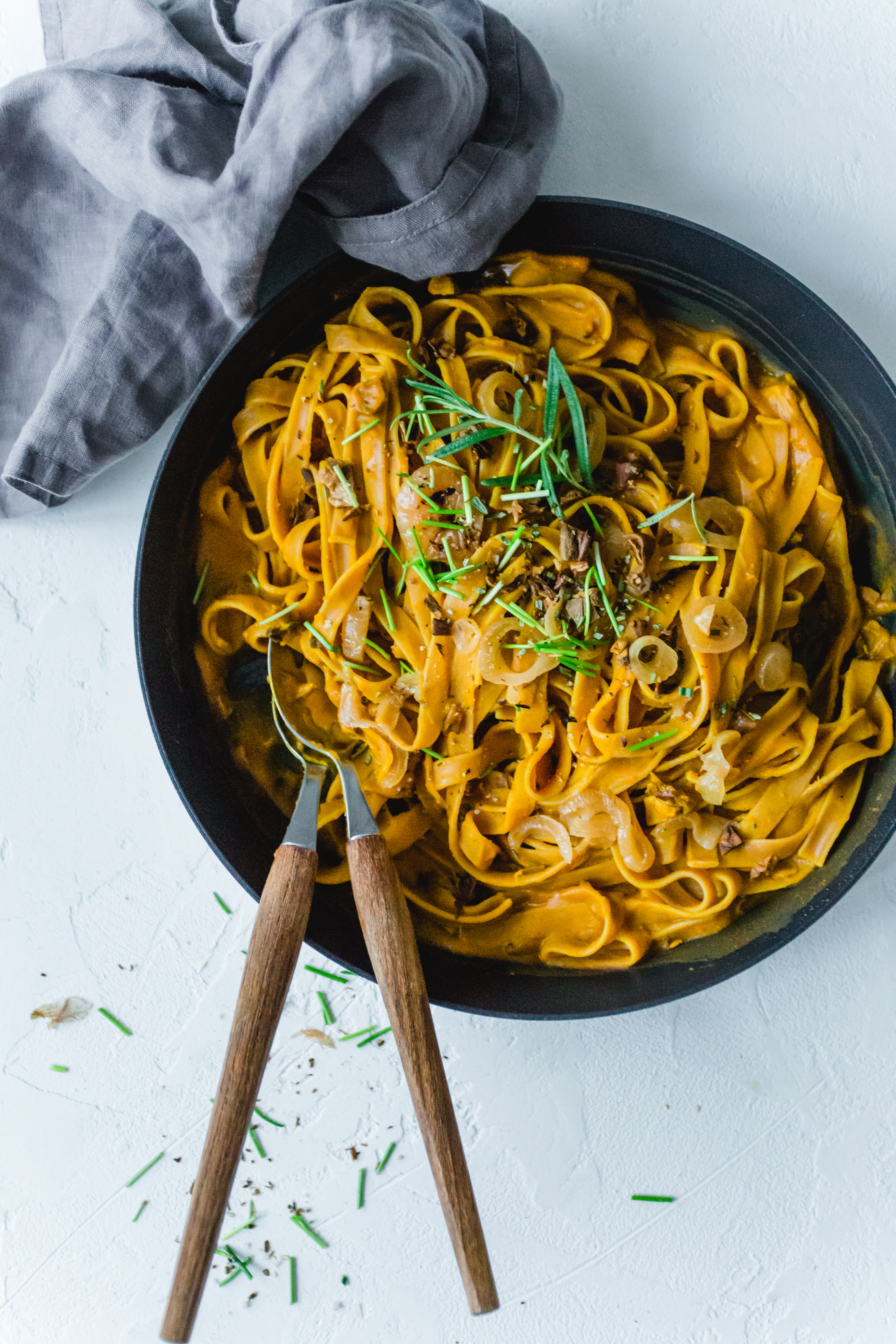 It's November already and fall is in its full effect. Leaves are turning all shades of yellow, orange and red, the air is crisp and foggy early in the morning and although we love long walks in the woods and enjoy the beautiful melancholy of the season changing, all we want to do is to snuggle up under a cozy blanket, eat comfort food and read a good book. Ok, ok, and watch Netflix!
As I was scrolling through one of my favorite high-end online grocery shops Delínero, I felt the urge of creating a simple yet super comforting dish, using unique ingredients from their shop. What I love most about them, is that they have a wonderful array of exeptional products. I also love that they have a beautiful and inviting homepage, the products have super pretty packaging and they deliver within just a couple of weekdays. My orders always brighten my day and also the day of friends and family, because they always get to try new and delicious things. This time I wanted to make a seasonal pasta dish with pumpkin accompanied by high quality products from Delínero. This is how the idea for my creamy porcini mushroom tagliatelle was born.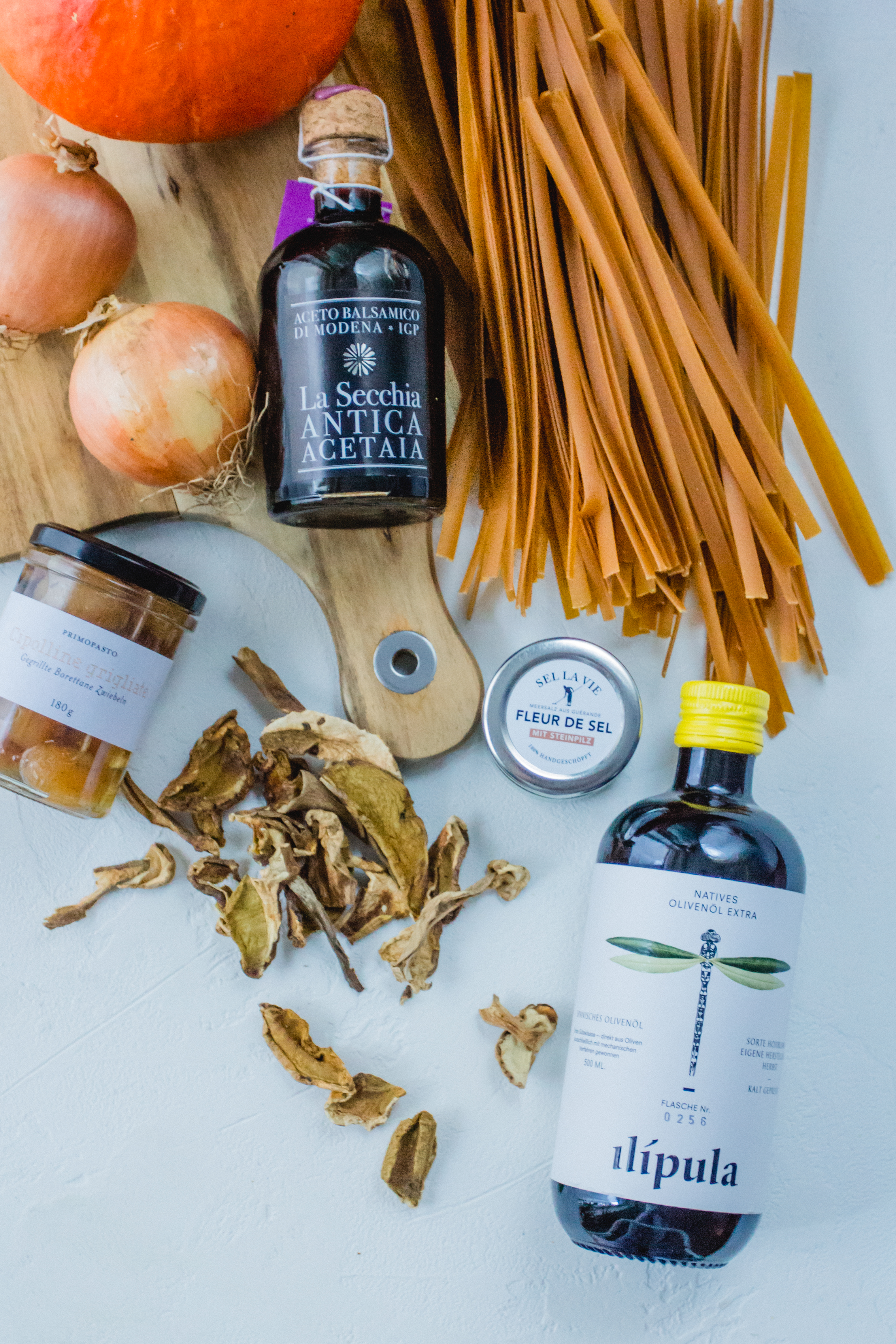 When I think of comfort food, a bunch of different dishes pop into my mind, but pasta is definetly one of my all time favorites. What's more comforting, than a big bowl of delicious pasta, right?! So, I started looking through the pasta section on Delínero's website and instantly stopped when I saw the porcini mushroom tagliatelle. I could seriously taste the earthy and fragrant taste of the mushrooms and the rest went from there. Additional dried and rehydrated porcini mushrooms, Hokkaido pumpkin, some crazy good Olive Oil - I used Ilípula Olive Oil and I can't even tell you how amazing it is. Super fragrant and peppery! I'm seriously in love - also some tasty, sweet Balsamic Vinegar, like this aged Aceto from La Secchia Antica Acetaia with a robust, yet fruity and pleasant sweet flavor and a delicious Pouilly Fumé, with hints of citrus, caramel and roasted hazelnuts. One of my all time favorite white wines!! To finish it all off, I added some fresh rosemary, a few flavor packed grilled and pickled Borettane onions and a sprinkle of Sel la Vie porcini mushroom sea salt.
Earthy! Nutty! Sweet! Tart! Peppery! All at once. Sounds good, right?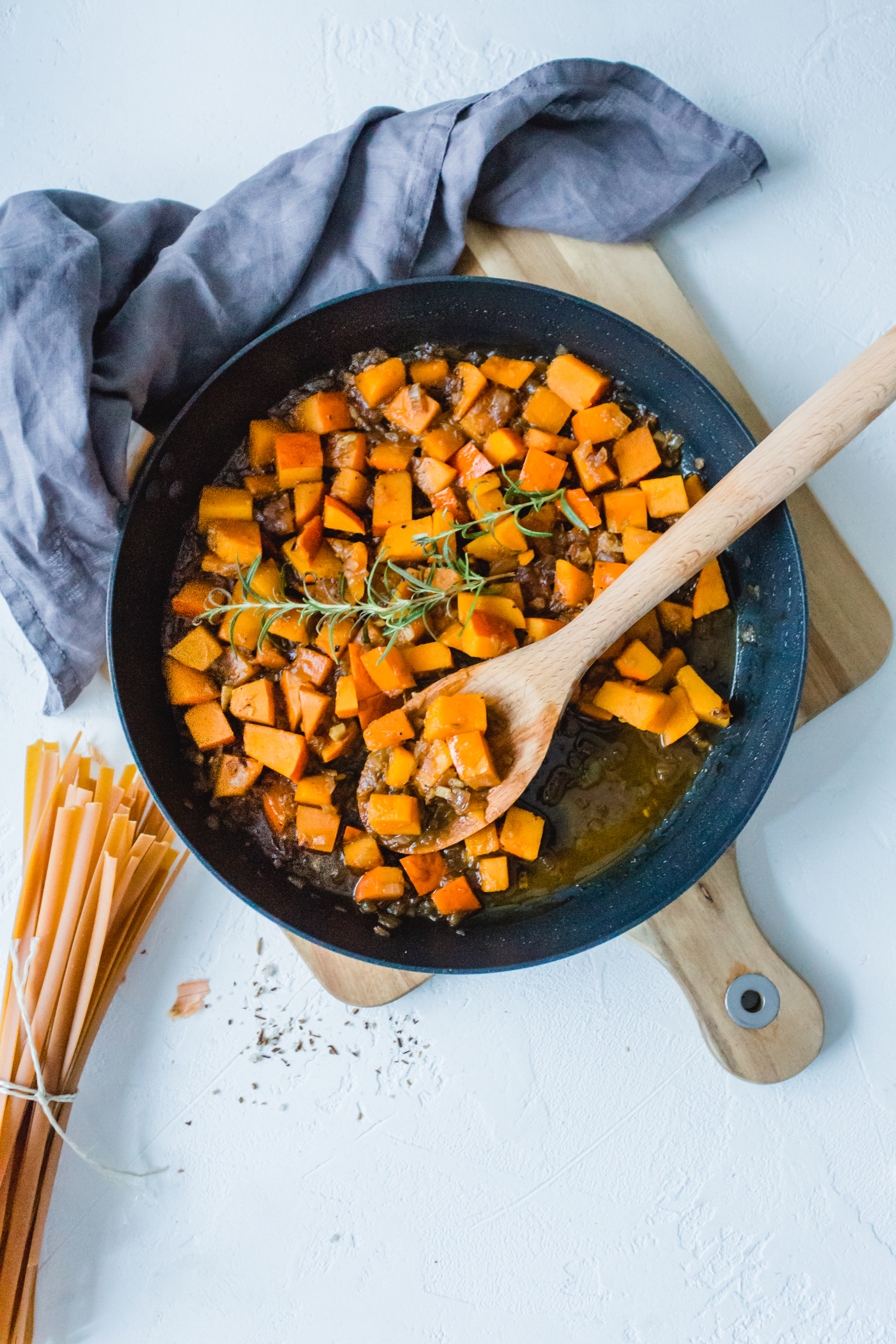 I love using Hokkaido pumpkin, because of two reasons: they are deeply packed with yummy pumpkin flavor, so they are a bit nuttier and sweeter than some other pumpkins aaand you don't need to peel them. The skin cooks so super fast and adds additional flavor and nutrient to your dishes. A win win situation! Just chop up approximately half of a pumpkin and sauté it for just a few minutes with chooped onions and garlic and a sprig or two of rosemary. While this is happening you can cook the pasta, because believe me, this dish might sound and look like it's high maintenance but it so isn't. Back to the sauce in the making. Now it's time to gelaze all the delicious flavors sticking to the bottom of your pan. Add all of your liquids, balsamic vinegar, white wine and dried porcini mushroom liquid... *ttttsssshhhh* the sound of goodness happening! all you need to do now is blend the sauce until it's creamy - you might need to adjust the liquid situation - add the dehydrated and chopped mushrooms, re-season and garnish with pickled onions, finely chopped rosemary, a dash of porcini mushroom sea salt and a genrous drizzle of that crazy good olive oil. Baaaaam! Dinner 2.0 is served. Wether you're treating yourself or others with an exeptionally tasty meal, this will make anyone's tastebuds go on a #omg #foodporn ride. Yes, you can thank me later. Now are you ready to get cooking?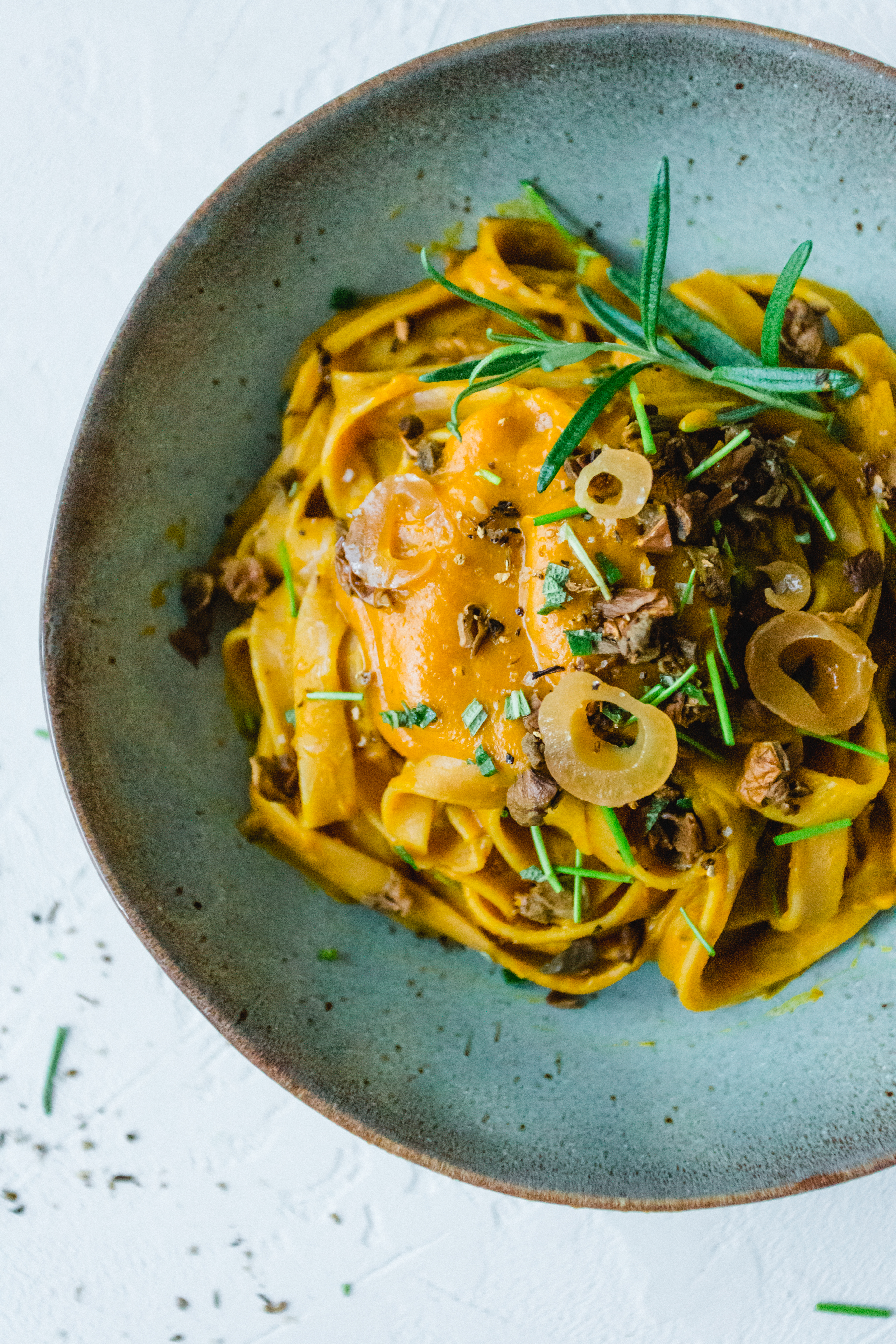 WHAT YOU NEED - Serves 2-3
250 gr Porcini mushroom tagliatelle
Half of a Hokkaido pumpkin washed, seeded and diced
2 Tbps Olive Oil
1 medium size onion, diced
2 small cloves of garlic, chopped
30 gr dried porcini mushrooms, rehydrated in 200 ml boiling hot water
2 sprigs or rosemary, whole + 1-2 tsps, finely chopped for garnish
Freshly grated nutmeg, to taste

1/2 a cinnamon stick or a good pinch of ground cinnamon
Sea Salt + black pepper to taste
100 ml Pouilly Fumé or any other dry white wine
1 Tbsp aged Balsamic vinegar
2 Tbsp chopped pickled Borettane onions
Porcini mushrooms Fleur de Sel, for garnish
Some really good quality Olive Oil , to taste
Coffee Filter for draining the mushrooms
HOW TO
1. Pour the boiling hot water of the dried mushrooms, cover and let sit for 10 minutes, then take out the mushrooms and run the infused water through a coffee filter to catch possible sand and dirt. Chop the rehydrated porcinis in small pieces. Reserve the mushroom water and chopped mushroom separately. Meanwhile chop the veggies.
2. Heat some olive oil in a large skillet, then add the onion and garlic and sauté until transluscent. Add the diced pumpkin and rosemary sprigs and the cinnamon, season with salt + pepper. Sauté all together for another minute. Then geglaze the pan with the balsamic vinegar, the white wine and the mushroom infused water. Lower the heat and let it simmer for 10 minutes. Add small portions of (pasta) water if needed.
3. Meanwhile cook the porcini tagliatelle according to package directions, in salted boiling water until "al dente" (with a good bite).
4. When the pumpkin is tender, put the mixture in a high speed blender and blend until you have a creamy and lush sauce. You might need to add some pasta water, if it gets to thick. Pour the sauce back into the pan, add the chopped porcinis, add the freshly grated nutmeg and reseaon with salt + black pepper if needed. Reheat the sauce for a minute, then add the cooked tagliatelle. Take off the heat and toss until the pasta is well coated with sauce.
5. Immediately transfer to deep pasta plates. Garnish with some additional chopped mushrooms and rosemary, sprinkle on a little Porcini Mushroom Salt or any other high quality Sea Salt. Finish it off with a a generous drizzle of a darn good Olive Oil like this right here.
Enjoy!