No matter if you're following a plantbased diet or not, vegetable curries and stews are just one of the easiest and most satifying dishes to make! The best part about them is that most of them taste even better the next day, so making a huge batch is a win win situation, because you're basically meal prepping while making your lunch or dinner. During the warmer seasons I love making a light coconut curry with Thai flavors, loads of fresh veggies with a bite to them, maybe even fruity flavors such as mango or pineapple and tons of fragrant herbs to finish it all off. The colder seasons make me crave more hearty curries. Indian flavors come into play and with the addition of lentils or beans and even some potatoes, you'll have yourself a hearty and filling meal that warms you from the inside.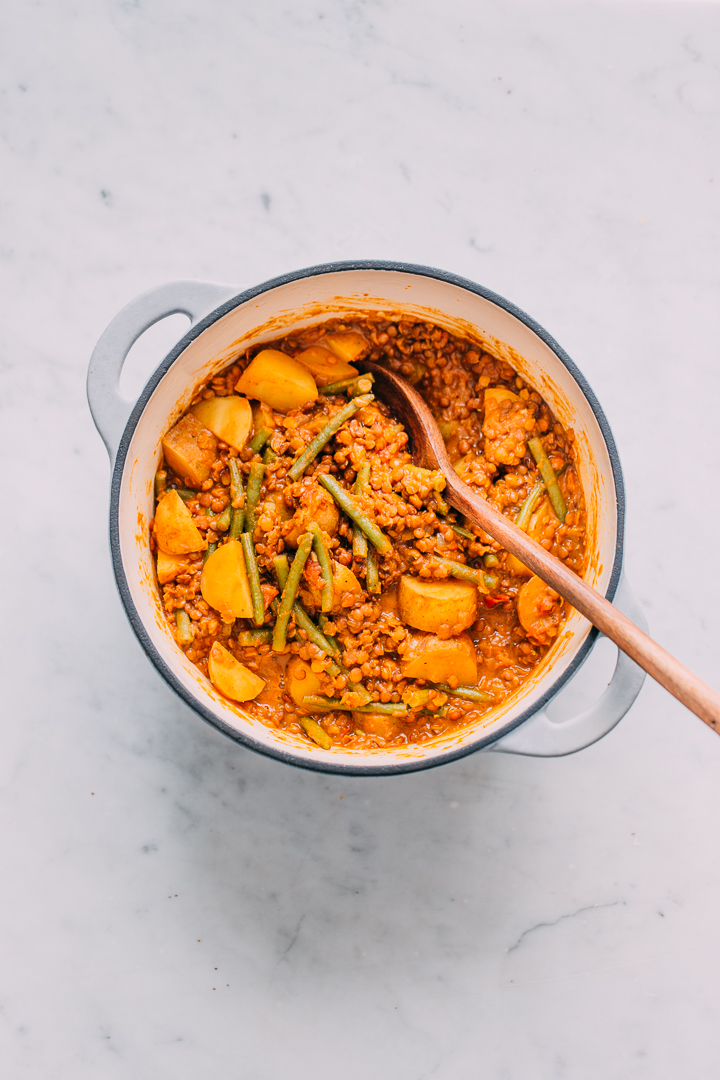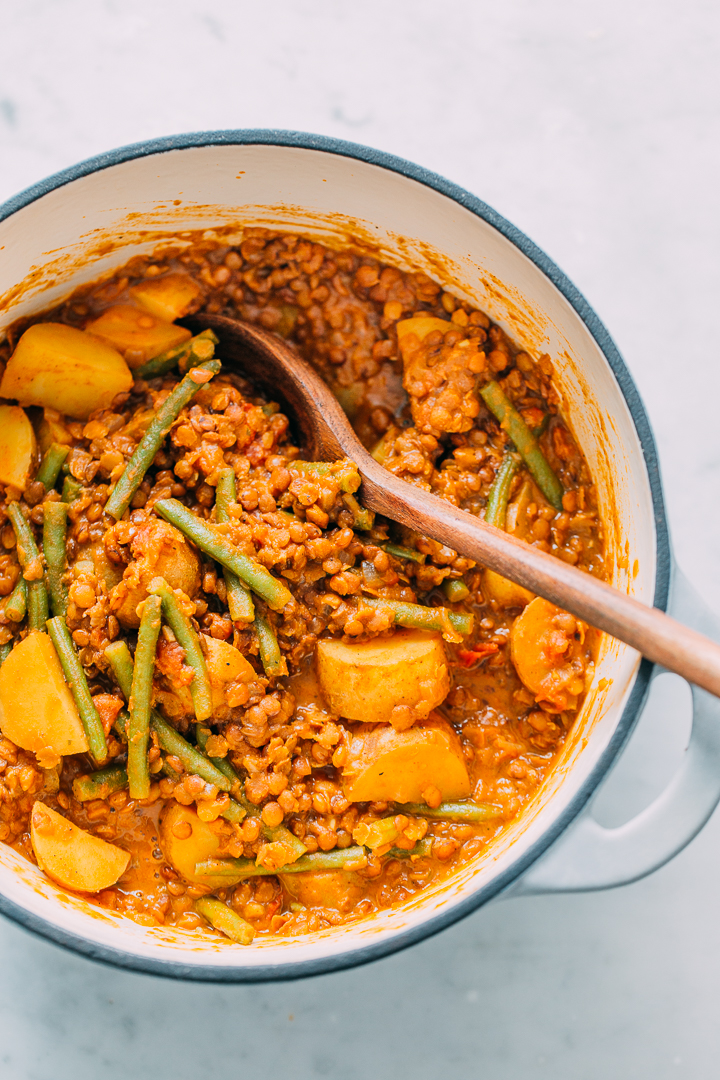 Since it's the winter season, I was thinking to do just that and make a huge batch of an Indian inspired lentil and potato curry with deep flavors coming from Garam Masala and lighten it up a bit with the addition of green beans, a squeeze of fresh lemon and cilantro. What makes this dish even greater is that it's a one pot dish. I'm a huge over of makinng as little mess as possible in the kitchen, so these kind of dishes always make a happy girl.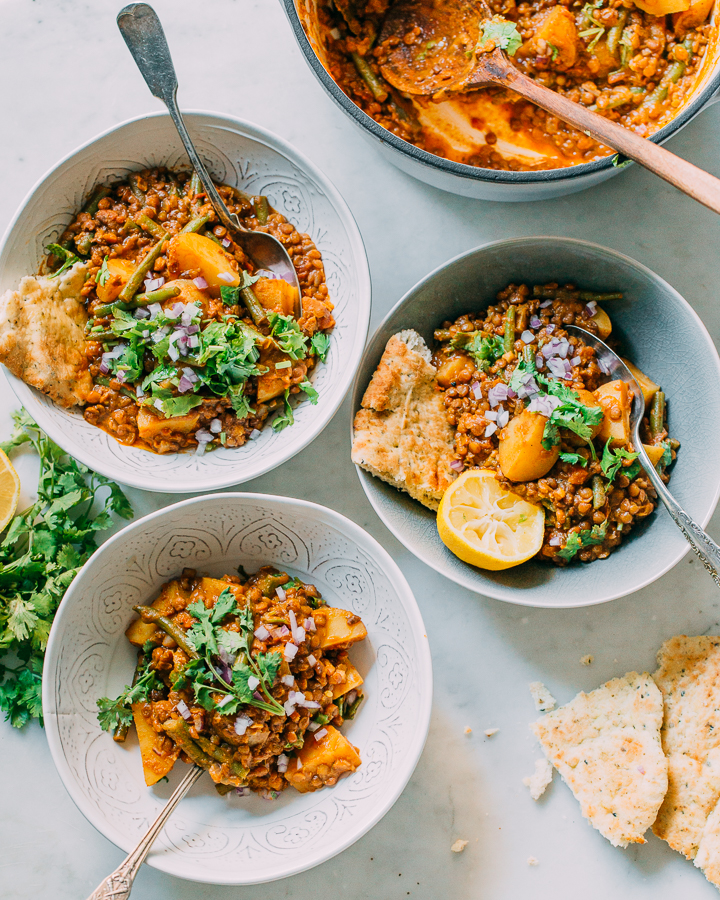 So get ready for this delicious lentil potato curry recipe…
Ingredients
1 cup green or brown lentils (red lentils cook too fast)


1 medium sized onion diced

2 cloves garlic minced

4-5 medium sized potatoes cut in quarters or half depending on the size


2 tbsp olive oil

1 tbsp curry powder


1 tbsp garam masala

1 tsp tandoori powder or chili powder


1 tsp ground cumin

1 tsp ground ginger

1 tbsp tomato paste

2 cups veggie broth

250 ml water

1 can tomatoes

1 can coconut milk

1 1/1 cups fresh green bean cut in half (you can use frozen green beans too. They will take less time to cook though)

Juice of 1/2-1 lemon
Instructions
Start by heating a large cast iron pot or regular pot to medium heat and adding the olive oil and sauteeing the onion and garlic until they get a golden color. Add the spices and cook for a minute to extract the essential oils from the spices then add the tomato paste and cook for another minute. Make sure it doesnt burn. Add the lentils and deglaze everything with the tomatoes, broth and water and cook for about 15-20 minutes with a lid on. You might need to lower the heat to medium low and also stir regularly so the lentils won't burn on the bottom of the pot.

After 15-20 minutes of cooking the lentils add the potatoes and cook for another 10-15 minutes until the potatoes and lentils are almost fully cooked. Keep stiring every few minutes.

Add the green beans and coconut milk and cook for another 10 minutes with the lid off. The curry should be thick and creamy now. If the consitency is more liquid before adding the beans, add less coconut milk but that shouldn't be case, because the lentils will soak up most of the liquids.

Finsih the curry with the fresh lemon juice and serve it with chopped cilantro, finely dice red onion or green onions and a side of naan bread.  Enjoy!