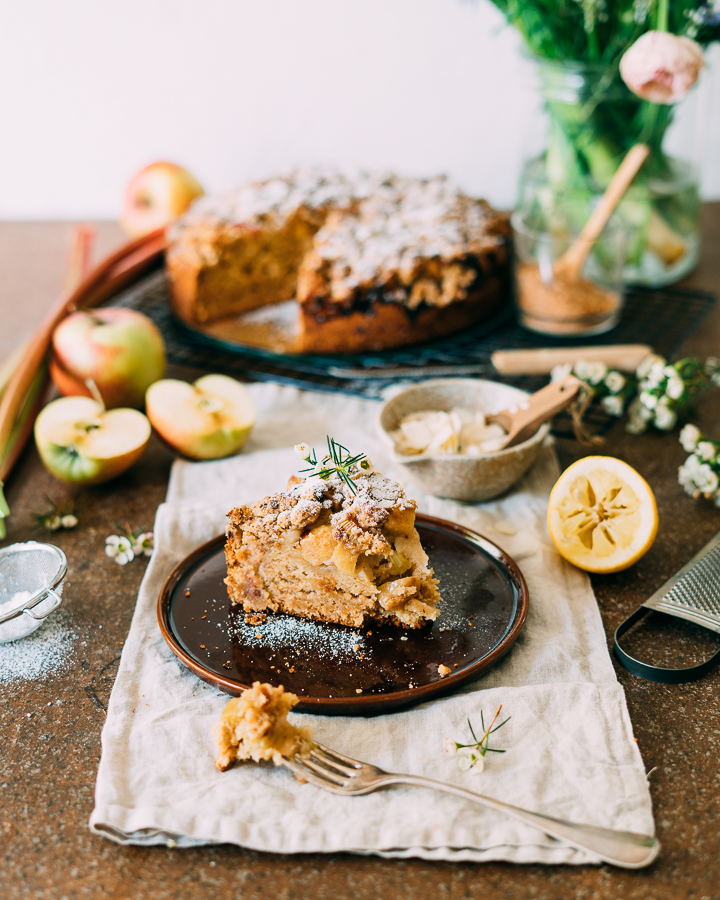 You know it's spring, when there is rhubarb everwhere at the markets and supermarkets. I'm a huge fan of the tart taste but I love to combine it with something sweet, like strawberries or apples. Chris' favorite cake is apple cake, so I thought why not combine a classic german apple crumb cake with rhubarb and it turned out beautifully.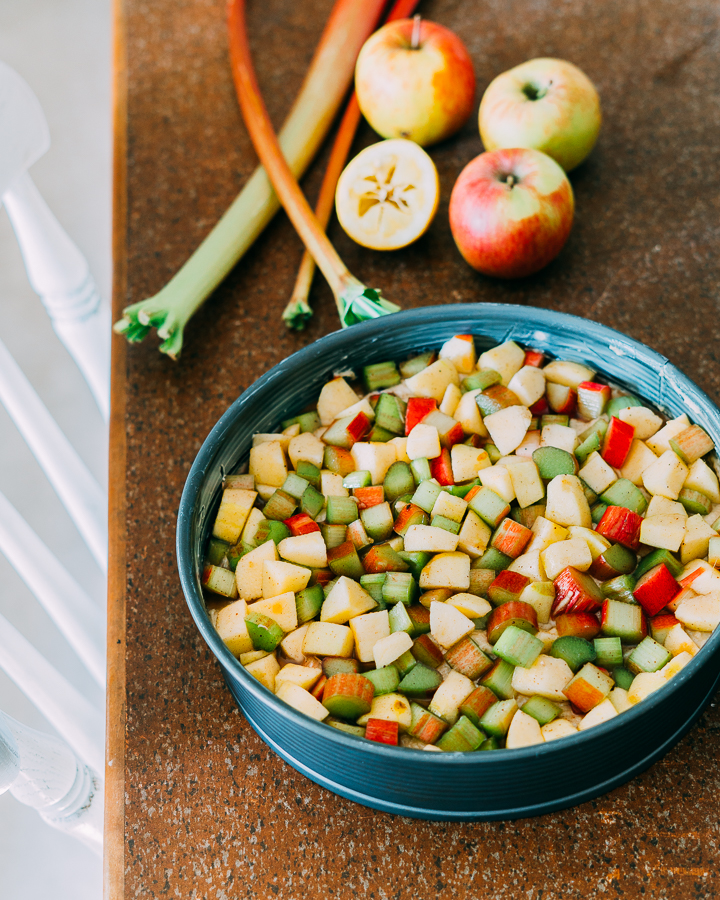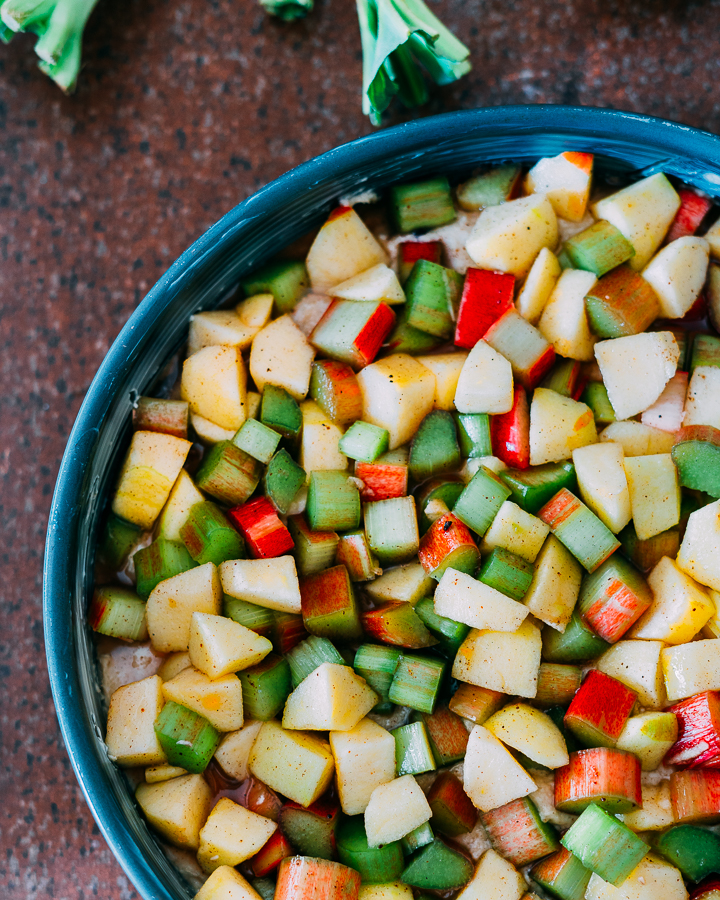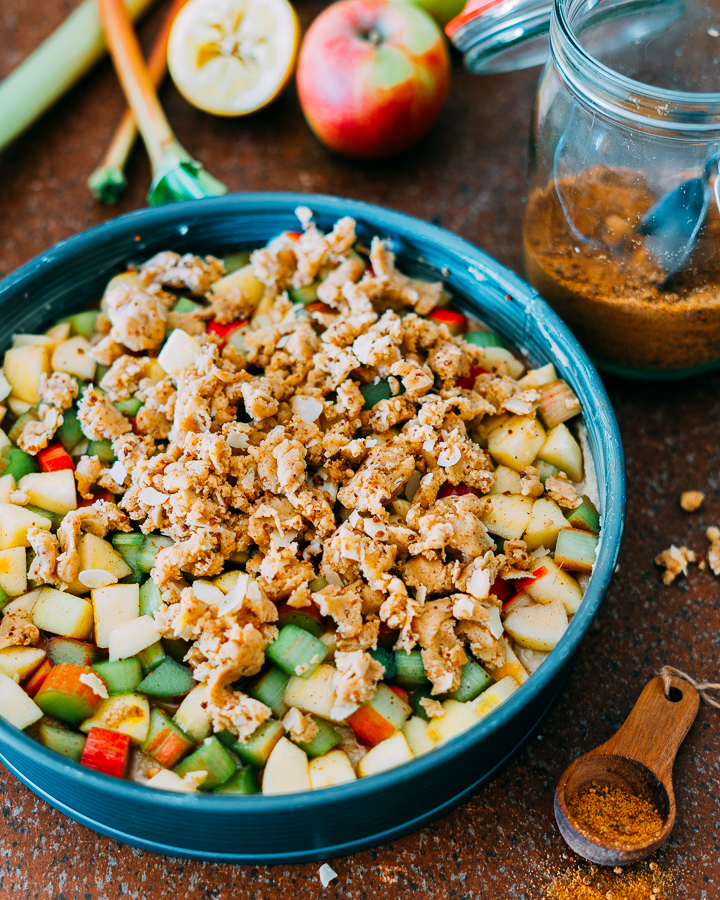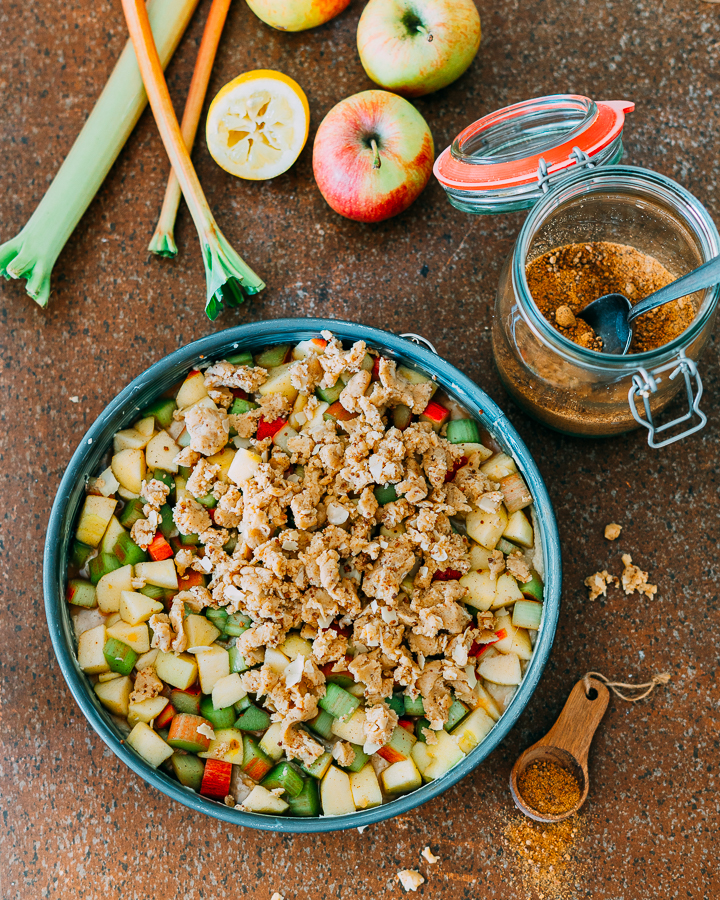 Starting with a thick layer of vegan vanilla cake, next comes a layer of apple and rhubarb chunks marinated in lemon juice, sugar and vanilla and finshing it off with buttery crumbs. It's that easy!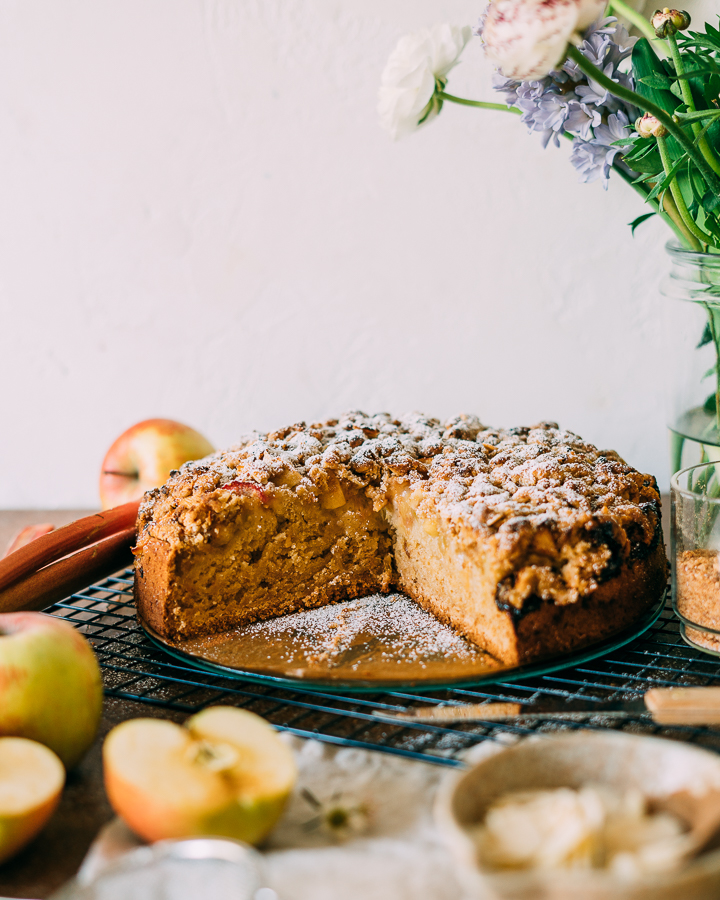 Ingredients
For the cake:
3 c spelt flour

1/2 c ground blanched almonds

2 tsp baking powder

1 tsp baking soda

1/2 c raw cane sugar

1 c plant milk

1 tbsp apple cider vinegar

1/2 c vegan butter softened

1 tsp bourbon vanilla

pinch of salt
For the fruit topping:
4 c or 3-4 medium size apples peeled, cored and cut in medium chunks

3 stalks rhubarb cut into the same size as the apples

3 tbsp raw cane sugar

juice and zest of 1 small organic lemon

1/2 tsp bourbon vanilla
For the crumbs:
1/2 c vegan butter softened

3/4 c spelt flour

3-4 tbsp blanched and sliced almonds

3-4 heaping tbsp brown sugar

Pinch of salt
Instructions
Preheat the oven to 180°C (fan oven) and line/ grease a large baking pan. In a medium size bowl marinate the fruit with the sugar, vanilla and lemon. Set aside. Mix the crumb ingredients until you have small/medium chunks. Let it rest int the fridge until you're ready to top the cake.

Start mixing all dry ingredients in a large bowl. Then mix the sugar with the butter until frothy. Add the rest of the wet ingredients and mix well. Don't worry if the butter is clumpy. Add the wet into the dry ingredients and mix well. Don't overmix the dough though. Pour into your baking pan.

Add the fruit topping over the cake and top with the crumbs. Bake for 60-80 min depending on your oven or until a wooden skewer comes out clean. I covered the cake through half of the baking time with foil to prevent the crumbs from getting to dark.

Let the cake cool completely on a cooling rack then top with confectioner's sugar if desired.