What's better than the smell of cinnamon and baked apple during fall and winter? Not much, I'd say! The best part about baking is that the entire house smells like a scented candle.
I've loved cinnamon buns, ever since I had my first one at a shopping mall in the states. Sticky icky, ooey gooey Cinnabuns. Heaven and hell in one serving. I mean, they taste delish, but first of all, they are not vegan and faaar from healthy. My version might not be a super healthy one either, but I'm sure it's better for you than the Cinnabuns from the mall. And by adding apples you get an extra serving of fruit 😉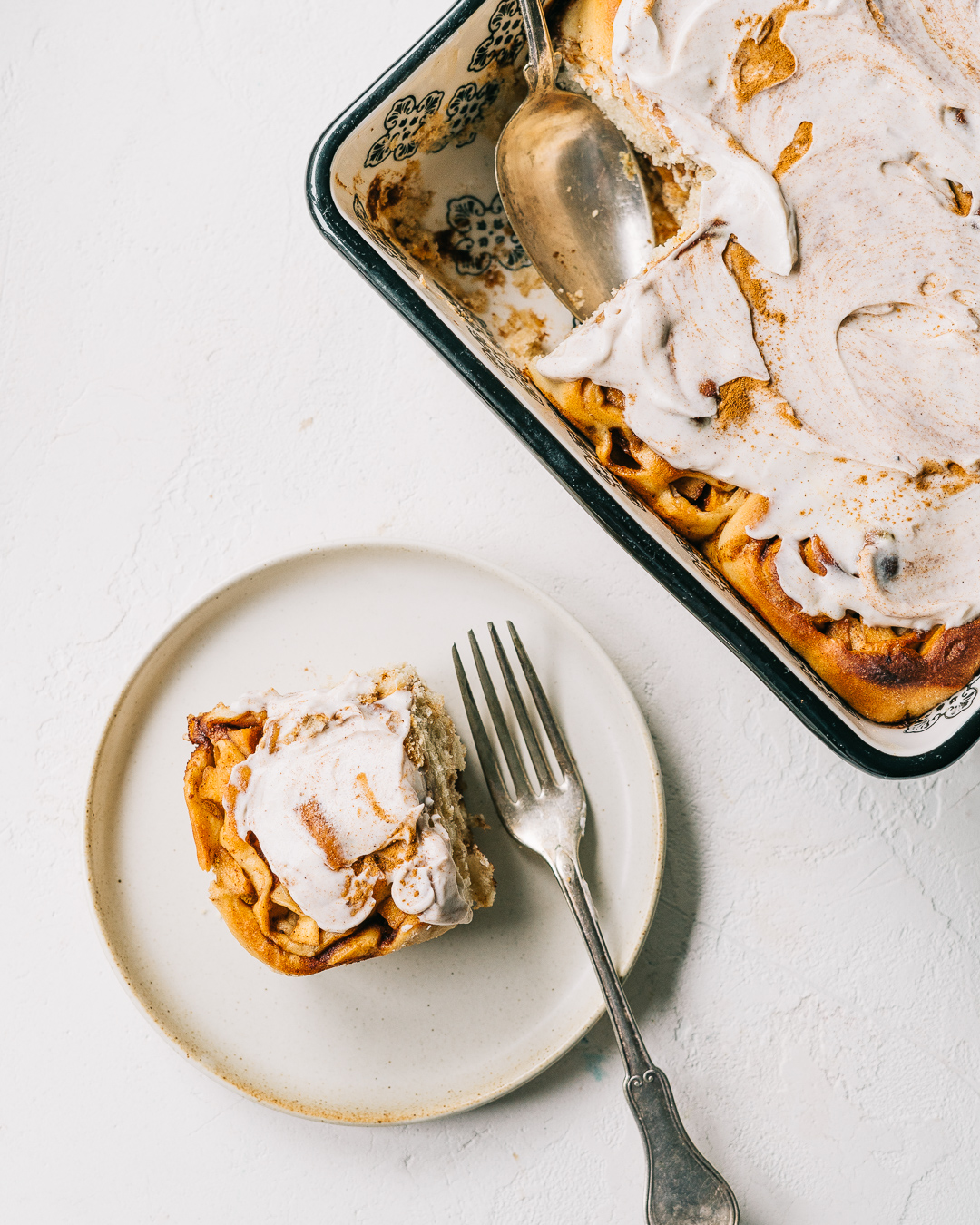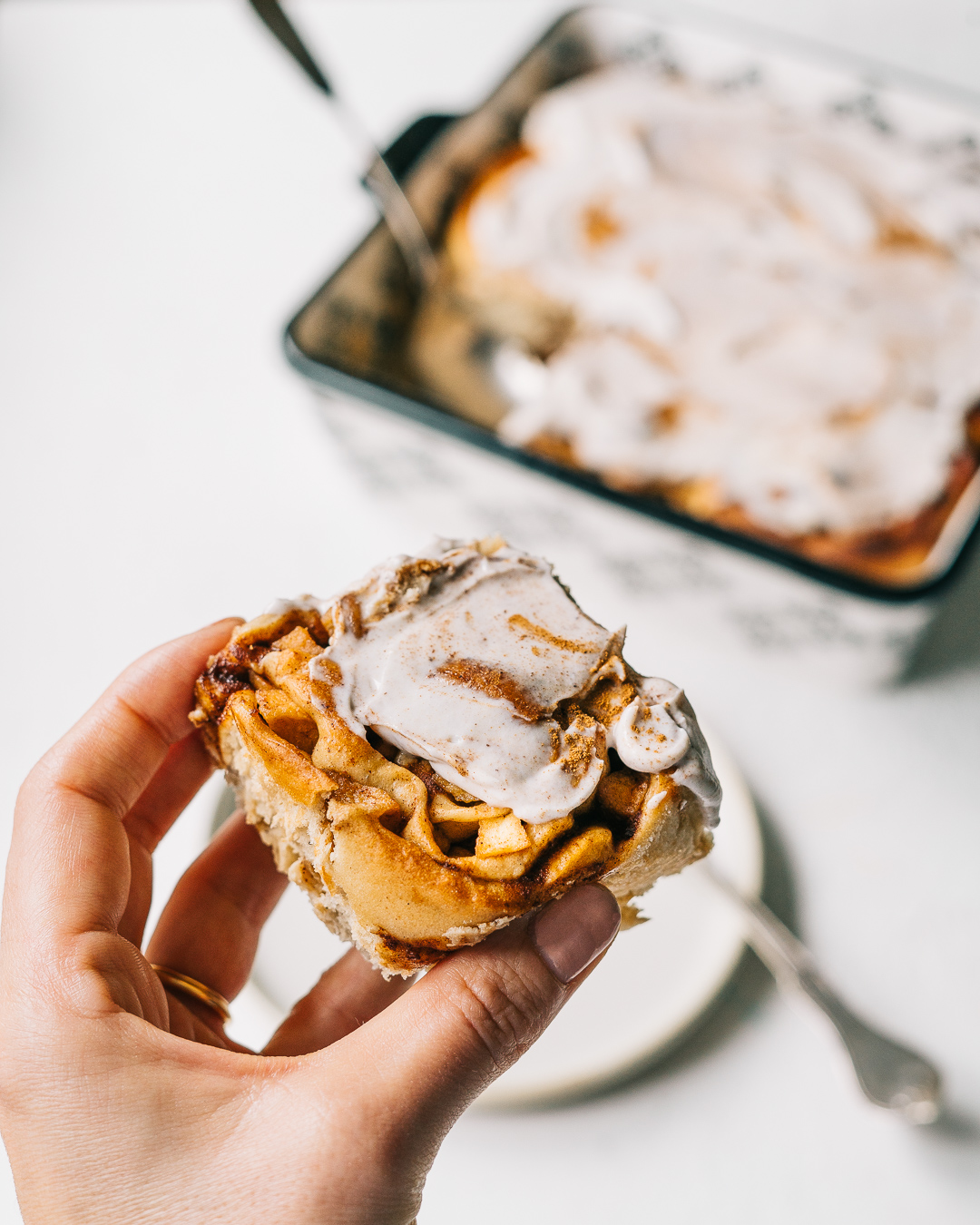 Usually I only bake with either spelt or buckwheat flour but I feel that the yeast buns come out best when made with regular wheat flour. I just buy a good quality and organic wheat flour from the organic shop. And because the cinnamon buns are only baked for 20 minutes, the apples require to be cooked for about 7-10 min, otherwise they'll stay crunchy inside of the buns and we don't want that.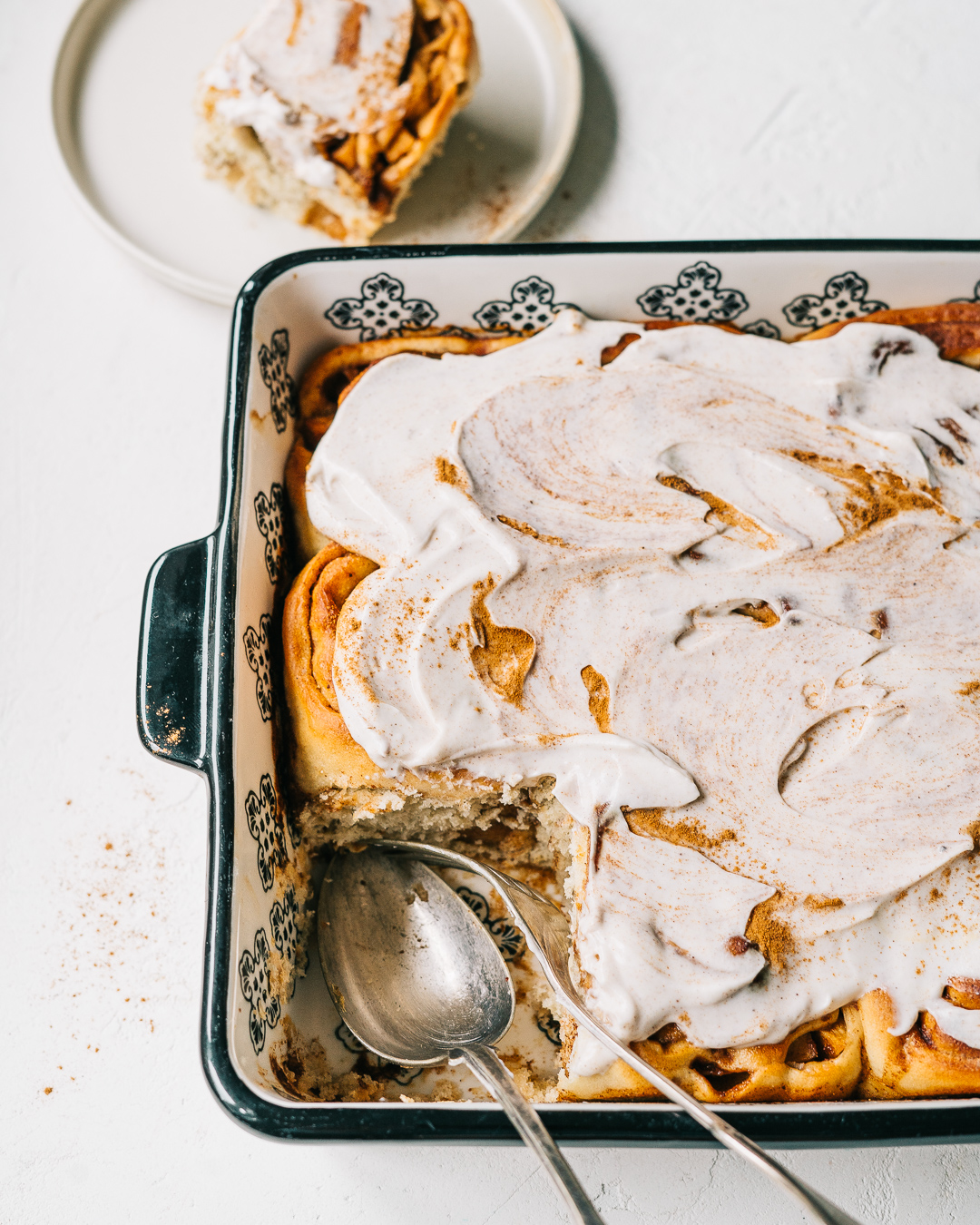 HOW TO – makes about 9-12 buns depending on the size
The Dough
1 package dry yeast (approx. 9 gr)
500 gr organic wheat flour (type 550)
250 ml lukewarm oat milk
70 ml melted vegan butter
4 tbsp raw cane sugar – you can use any other sugar, just know that they act differently in sweetness so you might need to adjust the amount
Pinch of salt
1/2 tsp bourbon vanilla bean powder
Apple Topping
4 medium size apples peeled, cored and cut into small cubes
3-4 tbsp brown sugar
2 tsp cinnamon
Zest and juice of 1/2 organic lemon
Splash of water
Cinnamon Sugar Topping
1/2 c soft or melted vegan butter
1/2 – 3/4 c brown sugar (add more if you like it sweeter, adjust if you use different sugar)

2-3 tsp cinnamon
The Frosting
1 package softened vegan cream cheese (approx. 150 gr)
1 bag of chai steaped in approx. 1/2 c hot water
powdered sugar to taste (I used 3-4 tbsp)
splash of lemon juice
1 tsp chai spice blend or cinnamon
1. Start by making the dough because it will need time to rest and rise. In a kitchen machine with a dough hook, add the dry yeast, sugar and luke warm oat milk. Mix and let it sit for about 5 minutes. Then add the melted butter, salt, vanilla and flour. Mix on medium speed for 10 minutes. Alternatively you can mix with your hands on a clean and floured surface. Put a moist towel of the bowl and let it rise for 1 hour at a warm place (e.g. next to the heater).
2. Meanwhile make the apple topping by adding all ingredients into a small pot and cook it for 7-10 minutes. The apples need to be semi-soft, not mooshy, but not crunchy either. Adjust the sweetness/ tartness by adding more sugar and/ or lemon juice. Let it cool.
3. Mix the sugar with the cinnamon for the sugar topping and set aside. If the butter isn't softened yet, pop it into the microwave for 10-20 secs.
4. After 1 hour the dough should have risen about 2-3 times it's original size. Now it's time to roll it out on a floured surface. You want the shape to be oval and the dough thin but not too thin otherwise it will rip (approx. 3-4 mm). Brush the dough with the soft/melted vegan butter, sprinkle on the cinnamon sugar and arange the cooked cinnamon apples evenly on it. Don't add the juice. Keep it for later.

5. Now start rolling the dough lengthwise (the longer side) keeping the dough tight and the filling as snug as possible. Once rolled, reshapen if the dough has an uneven shape (much thicker in the middle than on the side). Then cut about 9-12 (PLEASE adjust the amount of slices if your dough is shorter or longer. Count out the pieces before cutting!!)
6. Place the cut pieces into a greased baking dish (square of round) and let it rise again (covered in a warm place) for another 30 minutes. After the second rising brush the buns with some coconut milk (optional and you can use any other plant milk too), drizzle on the leftover apple juice and bake at 180°C for 20 min. They should be golden on the top with a slight crunch but still soft on the inside!
7. For the frosting add the softened vegan cream cheese with a couple of tsp of the strong chai and the rest of the ingredients and mix well. Add more chai and/or powdered sugar if desired. Let it sit in the fridge until the buns are done and cooled, then spread it over them and serve immediately.
If kept covered in the fridge, they will be good for 2-3 days.